Which Wall Coatings Are Perfect for Your Home? | Raysa House
|
In the past, a wall only functioned as a partition or a room divider. However, today the walls have many functions, such as for soundproofing, as a room decoration, and protecting from the sun and rain. To realize all that, the wall must be strong, durable, and must also be artistic.
What is Wall Paint Coating?
Stucco
Generally, stucco is used to coat the wall brick surface or cellular concrete. The raw materials needed to make this plaster/stucco are Portland cement, water, and sand. You can also add limestone to this mixture.
The kinds of stucco
There are two kinds of plastering/stucco, regular stucco, and damp proofing stucco. Normal plastering uses cement and sand with a ratio of 1:3, while damp proofing stucco uses cement and sand with a ratio of 1:5. The damp proofing stucco needs more materials than normal plaster. Damp proofing stucco serves as a barrier to prevent water seepage. Usually, dam proofing stucco is used for bathroom walls and basements.
For plastering, a handyman will be co-worked with an assistant who can finish an area of 12 m2 / day. For skimming, a handyman will be able to complete an area of 12-16 m2 / day.
Wall Paint
The most commonly used wall coating material in each home is wall paint. This is because the cost is cheap. The walls can be painted after the walls are plastered and skimmed. Paintings make the walls look more beautiful and artistic. On the market, there are many colors of paint to choose from. When choosing a color, adjust it to your taste and character.
Three paint types you should know
Two types of paint are often used to coat the walls, base paint, and finishing paint.
The base paint is an initial coating after the wall is skimmed to close the wall pores. Some people called this coating wall putty. Loodmenie is a base coating for wood, while for iron it's called zinc chromate. Just like wall putty, loodmenie functions to close the wood pores, so you will use fewer finishing paints. Zinc chromate has different functions from those both. Zinc chromate is an iron-based coating that functions as an anti-rust coating so the iron will be more durable and strong.
Besides the wall surfaces, putty can be applied to wooden joints such as windows frames, ceiling panels, partition panels, and so on. This is called the wood putty. If you applied wood putty correctly, then the wood joints will be unseen. Putty can also be used to fix cracks on the wood. If done properly, the cracks will disappear just like new. Apply the finishing paint to make it shine.
Calculating the need for wall putty should be adjusted to the entire wall area. For brick walls, 1 kg of wall putty can cover 4-6 m2 wall areas. For wooden walls, calculating the need for wood putty is not determined from the entirely wooden wall areas, but determined from the holes, cracks, or joints that need to be covered. Therefore, calculating the need for wood putty cannot be determined at the beginning.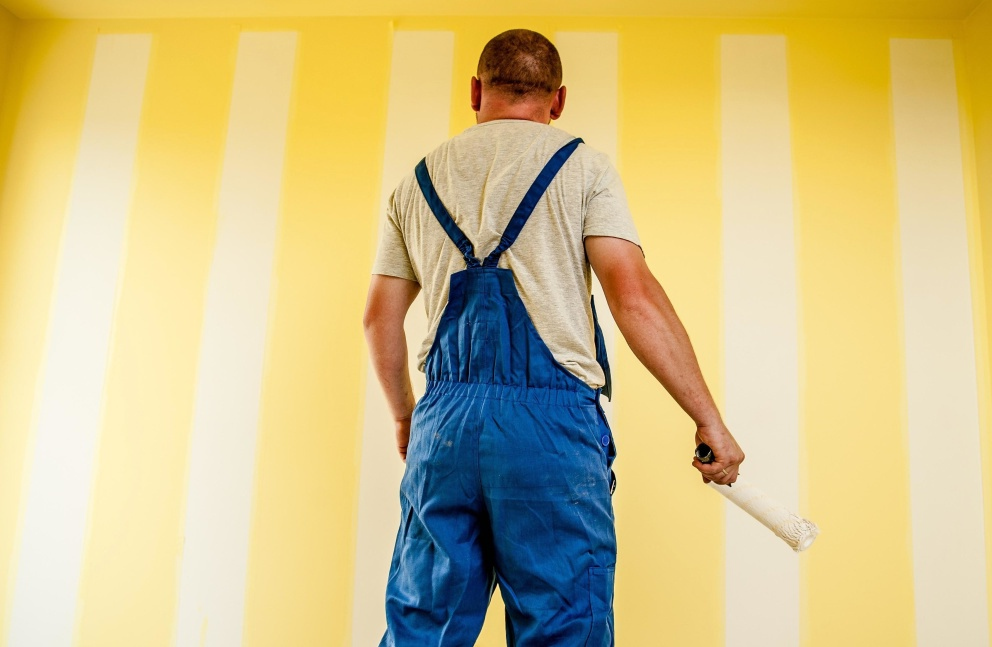 Finishing paint for wall or wood is generally classified into three types, interior paint, exterior paint, and decorative paint. Each type of paint has different functions. Interior paint is used for interior wall surfaces, while the exterior paint is used for exterior wall surfaces. Generally, exterior paint is more resistant to weather changes because they will more often interact with weather such as heat and rain. While decorative paint is used for artistic or decorative as the name implies, both for interior or exterior wall surfaces.
Based on the raw material, wall paint can be divided into two types, namely water-based paints and solvent-based paints (oil). Both types of wall paint can be applied for interior, exterior, or decorative, but the results and durability will be different. For exterior walls that require strong enough against weather and easy to clean with a wet rag, then a weather shield feature for exterior paint is the solution. Actually, weather shield paint can be used for interior walls, but the price should be considered even though the paint can provide longer durability.
The weather shield exterior paint is twice as expensive as regular paint. Therefore, it is recommended to use regular paint as an economical step. Even ordinary paint can be durable if the application is correct. To make regular paint can be durable and not striped, it needs to be applied alkali resistance paint before using finishing paint, especially for new walls or plywood walls.
Water is a thinner for water-based and oil-based paint, both for interior and exterior paints. For decorative paints, no thinner added because this paint is ready to use. Decorative paint has been mixed with quartz sand that can beautify the wall surface.
Finishing paint for iron or wood is often called oil paint (solid paint). In its application, oil paint needs to be mixed with thinner. The amount of paint coats for one area depends on paint colors. In most cases, two coats are enough for dark-colored oil paint, not so for light-colored oil paints, require 3 or 4 coats of wall paint. One kilogram of oil paint can cover 4 – 5 m2 wall area if you using a brush and 2-3 m2 when using a spray.
Besides for wooden wall, oil paint can also be used for iron material, but the type is slightly different. For iron construction, the regular oil paint can be used. While, the type of oil paints for cars, motorcycles, and other vehicles use duco paint. Duco paint cannot be applied with a brush because it is too watery. Duco paint only applied using a spray system with a compressor. Duco paint can be used in areas that have been putty (polyester putty). One kilogram of duco paint can be used for 2-3 m2 areas. Today, duco paint is widely used for wood material in luxury homes.
Generally, transparent paint is used for finishing for wooden furniture, doors, windows, frames, or partitions. The purpose is to show or emphasize the texture. However, this paint can also be used on wooden walls. The transparent paint that is commonly used is varnish. Other transparent paints can be used such as melamine, acrylic, polyurethane, lacquer, and so on.
Until now, the color of paint polish or melamic paint has been very diverse. Mostly adapted to the timber colors, such as teak, maple, cherry, oak, walnut, and so on. At first, a varnish made from shellac mixed with denatured alcohol (methylated spirits). Today, the varnish is not self-made anymore because there are many varnish manufacturers packed in cans. One liter of varnish can be used for an area of 4-5 m2.
In the wall painting process, the tools needed are sandpaper, putty knife, and brushes or paint rollers. The sandpaper is used to make flat and smooth the area to be painted. Putty knife is used to clean the paint and applied wall putty or plaster. Brushes for painting hard-to-reach areas, while paint rollers for large areas. If the house to be painted is very large (a big project), then a spray system will be used. Besides being faster, this spray system will get better painting results. Indeed, a spray system will consume a lot of paint, but it will be more cost-efficient workers and no waste time (quickly finish).
So, if you wish to acquire all these incredible pics regarding Which Wall Coatings Are Perfect for Your Home?, simply click save icon to download the photos for your personal PC. These are all set for save, if you like and wish to obtain it, just click save logo in the page, and it'll be immediately down loaded in your desktop computer.
Here you are at raysahouse.com, article above Which Wall Coatings Are Perfect for Your Home? published. Many people searching for information about wall coating before painting and of course one of them is you, is not it?