Wooden Roof Frame Construction and Calculate its Cost | Raysa House
|
Wooden roof in some countries is very popular because it has a unique appearance and artistic value for the house roof design. Besides that, the wooden roof is also durable, making it an investment choice for some people. So, want to know more detail of the wooden roof, please read the article below.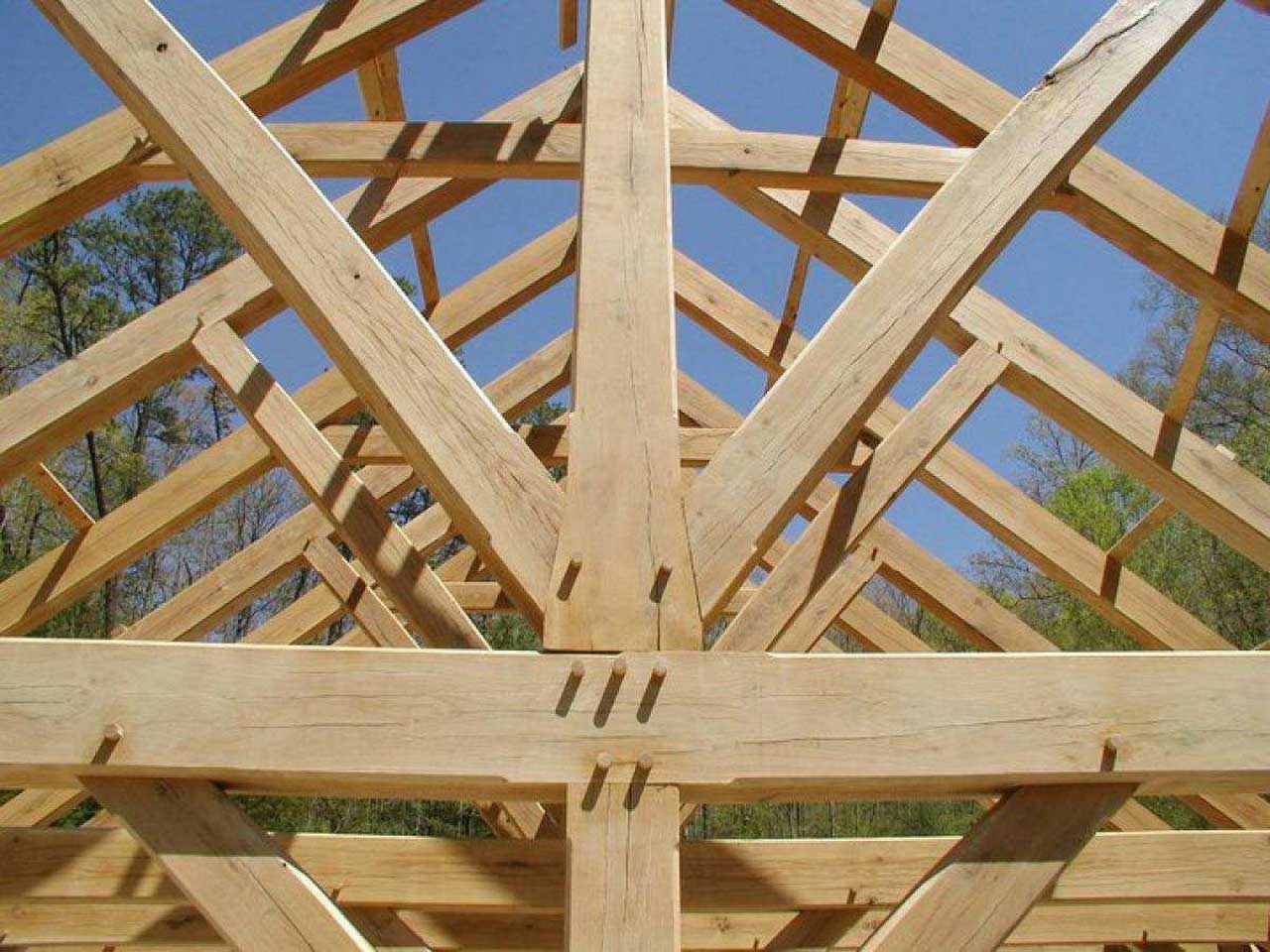 The wooden frame for the roof can last up to hundreds of years. An example can be seen in old colonial buildings that use wooden roof frames – such as the Josiah Dennis Manse Museum, Pieter Bronck House, and the Cathedral Church.
The popularity of wood for the roof frame has never been doubted because of its strength, durability, and appearance. Wood has a character that is resilient and elastic to loading. Each wood also has a unique texture. This texture is even imitated by aluminum manufacturers to get a warm and natural wood look. On average, a construction worker professionals capable of applying wood as a roof frame.
Wooden frames can be exposed and look beautiful. Wooden frames can follow various forms of roofing, from simple ones – such as gable roofs – to complex dome shapes.
CHOOSING WOOD FOR THE ROOF FRAME
We recommend that you use wood types with strong classes and durable classes in I-II levels, namely a wood that has the ability to withstand loads well and last long. Some types of wood that included in this category are Redwood, White Pine, Southern Yellow Pine, White Fir, Norway Pine, Teak, Orford Cedar Port, and Eastern Spruce. These types are indeed strong and durable, but their availability is not sustainable so that it gets harder to come by. Consequently, wood prices continue to rise.
The wooden roof frame has 4 components, namely roof truss, purlin, rafter, and battens. Roof truss as the main structure, then there is a purlin where rafters rest and battens are placed on top of rafters to support roof tile. Here are some common wood size found on the market:
8 x 12 cm for truss and purlin,
6 x 12 cm for truss and purlin,
5 x 7 cm and 4 x 6 cm for rafter,
3 x 4 cm and 2 x 3 cm for battens,
The size and use of materials depend on the weight and size of the roof cover, span and roof model. The more complex the shape, then its material needs to be added. Similarly with the span, for an ideal wood stretch is 4 m, more than that there will be materials waste. Preferably, for roof truss choose wood with a standard size, do not use "sissy" wood (when flattened dimensions reduced)
The Wooden Roof Construction Phases
Installation of Roof Trusses

Installation of Purlin

Installation of Rafters

Installation of Battens

Installation of Gutters and Hip Rafter
Use Bamboo To Make It Cheaper
To reduce costs, material alternatives such as bamboo can be used as battens for roof truss. Bamboo battens are able to support a lightweight roof tile. Gazebos with roofs made of shingle are also used a lot of bamboo as a building construction.
Some wood has excess water content so the expansion-shrinkage capability of the wood is easier. To minimize this, the wood is first ovened so the wood dries. Dry wood has two advantages, namely the expansion-shrinkage ability is reduced and termites are reluctant to come.
CALCULATING THE NEEDS OF WOODEN ROOF FRAME
The following is a sample calculation to find out the needs of wood in the manufacture of a wooden roof truss. The price of wood usually varies and listed below are the assumptions that approximates the real price.
REQUIREMENTS ASSUMPTION
House size: type 36 (6m x 6m)
Wood types: Southern Yellow Pine (widely consumed and easy to find)
Wood length: 3m (so using multiples of 3 modules)
Roof model: gable
Roof covers: standard ceramic roof tile
Eaves length: 1m
NEEDS OF SOUTHERN YELLOW PINE WOOD (3m Length)
Beams 8/12: 26 blocks (truss and purlin)
Rafters 4/6: 72 blocks (distance between rafters is 50cm and for air-flow)
Battens 3/4: 68 blocks
Ridge boards 3/30: 2 sheets (distance between battens 27cm)
COST CALCULATION
Beams 8/12 ———— $11/blocks —– x26 —– = $286
Rafters 4/6 ———— $3/blocks —— x72 —— = $216
Battens 3/4 ———— $1,7/blocks —- x68 —— = $115,6
Ridge boards 3/30 —– $14/sheet —– x2 ——– = $28
The total cost for roof truss material = $645,6
The above fees have not taken into account the cost of construction workers, if the costs are added to the costs of construction workers, then the total cost is around $750. When compared with the price of lightweight steel roofs (the cheapest is around $19/m²), the difference is not much different.
The wooden roof is still used to this day, although the times of growing. Maybe this sounds classic, but that's the reality. A wooden roof is an alternative option for house roof design among the many other types of house roofs.
Think about photograph above? Can be that amazing??? If you feel thus, I'l t explain to you several image all over again down below:
So, if you'd like to secure the fantastic images related to Wooden Roof Frame Construction and Calculate its Cost, press save icon to download the photos in your pc. They're prepared for transfer, if you love and want to take it, just click save logo on the web page, and it will be directly down loaded to your computer.
Thanks for visiting our website, article above Wooden Roof Frame Construction and Calculate its Cost published. Many individuals trying to find information about Wooden Roof Frame and certainly one of them is you, is not it?