Home
»
Kitchen
»
Make It Work! Kitchen Island For Small Kitchens Tips You Need To Know | Raysa House
Make It Work! Kitchen Island For Small Kitchens Tips You Need To Know | Raysa House
|
A kitchen island is very common for a large galley. While it gave more counter area, a great centerpiece, and furniture in the room, people know that this piece takes some space too. Thus, adding an island for a tiny and tight kitchen seem unlikely. However, you should throw away that assumption. The kitchen island for small kitchens is not something impossible anymore. Considering the great benefit of this piece, here are some tips you should know beforehand.
5 Tips About Choosing The Right Kitchen Island That Will Fit Perfectly With Your Tiny Kitchen
Understanding What You Need
This is the main key to get the best piece of the island for your tiny kitchen. You should know and determine what you need it for? Are you looking for a great decorative piece or extra counter space? Do you want a sturdy piece or simple yet beauty table? You got mind-boggling varieties of islands out there, and considering those needs will help you choose one easier. This is the thing! A vintage styled island is a great pick for a small galley.
How could? If you are good at spotting the right design and style, a vintage piece is more versatile than you think. The piece can fit any kind of style. A vintage kitchen island for small kitchens will add ambiance for a modern kitchen, add interest, bring more counter space, and function. If you are looking for more working area, then get a butcher block island. It comes with a variance of sizes, designs, shapes, durability, and inexpensive price.
Consider The General Rule Of Clearance – Get The Right Size
You might think that a tiny kitchen doesn't need a kitchen island since they are already tight for whatever in the area. Surprisingly, even the tiniest kitchen will look better if you got the right island for it. However, the one consideration you should know is the rule of clearance. It is very important to know that you should allow at least 1 meter between the fixed island and any other surfaces. Why? the obvious reason will be for safety, easy to use, and comfort.
In this case, you can say that the most necessary consideration will be the size. Yes, you need to make sure the kitchen island for small kitchens is in great proportion with the room. Based on the experts, it is advisable to get an island that has a dimension of no less than 1×1 meter or 40×40 inches. In case you opt for other than rectangular shape, then it should have at least no less than 24 inches or 61 centimeters wide.
Get A Cart Or Rolling Island
In the previous part, you got the idea of the size and clearance. Those two ideas are very important especially if you are going to use a fixed or permanent island. So, it will be a different story if you are opting for a movable island. Those considerations aren't critical because you can adjust the space as you needed. So what you have to choose, a fixed design or the movable island? The answer is basing on your need and preference.
This is the thing you can move around the island on wheels as you push it whenever you need it or not. Using this particular design is very recommended for a tiny kitchen. This kitchen island for small kitchens idea also brings function the same way by adding surface and storage space. At the same time, the design and the feature are very vast. You got the kitchen cart, rolling island, an island with interchangeable butcher block surface, drawer, etc.
Think About The Golden Rule Of Working Triangle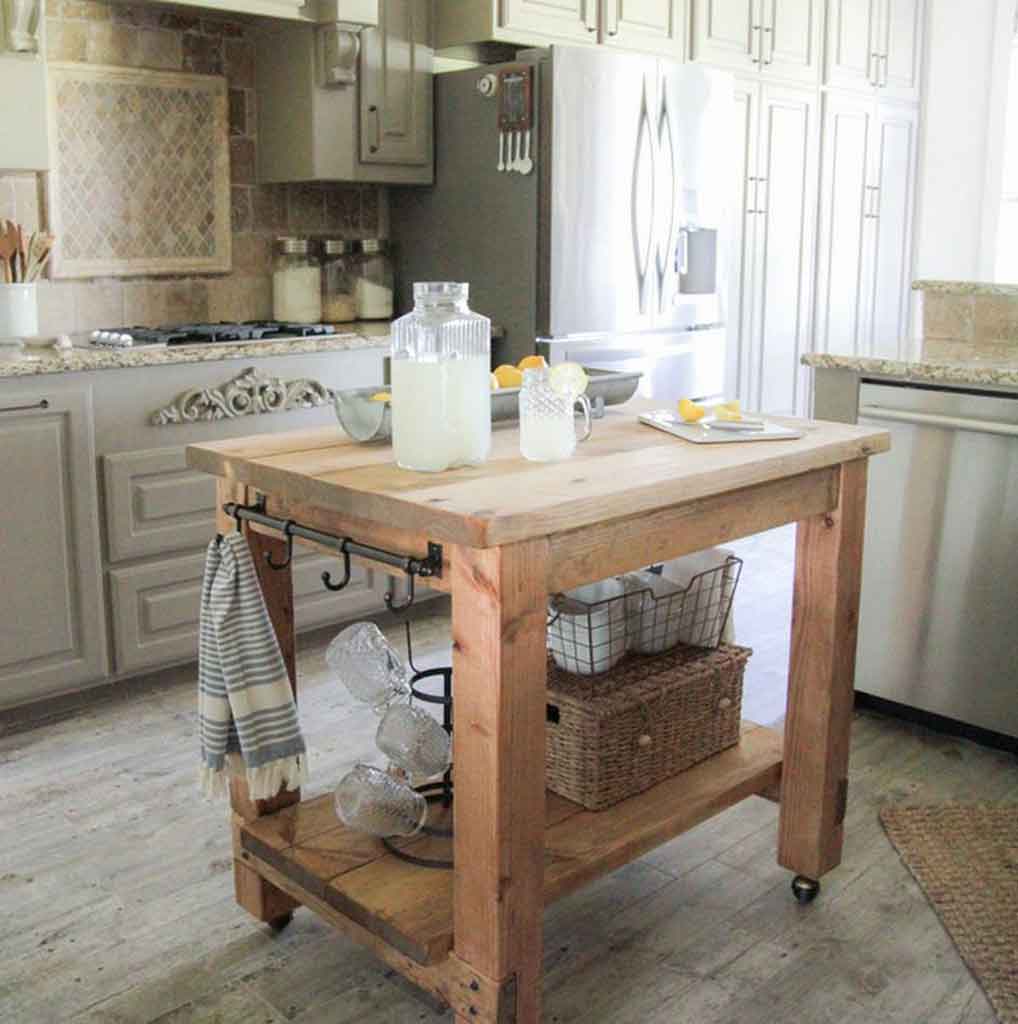 Another thing you should notice about a great kitchen layout is the golden rule of the working triangle. If you never heard about this, the idea is concerning a great working space between the 3 most important pieces in the room. They are refrigerator, sink, and stove. The three of them should be placed and formed a triangle shape. The triangle will make the workflow better, and you cannot hinder the shape with whatever you want.
Doesn't it mean adding an island will disrupt the flow? Yes, adding the island will turn the flow into U shape. Especially if you place the kitchen island for small kitchens right in the middle of the room. But this is not hindering in a bad way. This piece will add more storage, counter space, and workstation to the room. You can use it to prepare food, put some utensils, platting, glass, etc. Your workflow will eventually adapt and find the piece helpful.
Multipurpose Island
If you are looking at many ideas on the internet, you should not be surprised by a great variety. This is including the feature and the function. As you got a very limited space for the island, it is better to opt for a multipurpose island. If you want, some designs come with innovative ideas such as incorporating the bookshelves as the island. You can also find some ideas that use drawers for the island.
Maximizing use and space is a great thing to consider if you got a small area. So, opting for a piece that can be used for any purpose will be very helpful. So what kind of Kitchen island for small kitchens do you choose? Once again it is based on your need and preference. The piece can be an impromptu tiny buffet table for displaying your food, or you can use the island as your private dining table, a place to store any kind of cooking utensils, etc.
All in all, there is nothing that can stop you from adding an island to your tiny kitchen. Even the tiniest kitchen can have their island. Why placing extra pieces when the room is tight enough? Well, you got tons of benefits from it. At the same time, choosing the best one is not hard. Think about some tips and considerations above. What do you need? The size? Cart or fixed? What is the size? With all of that, you can get the right piece.
Thanks for visiting raysahouse.com, article above Make It Work! Kitchen Island For Small Kitchens Tips You Need To Know published. Many people searching for specifics of kitchen island plans for small kitchens and definitely one of them is you, is not it?